These ladies came up today so I thought I'd share some of their music and a few personal stories with you. In a simple verse chorus verse type format: Song story song.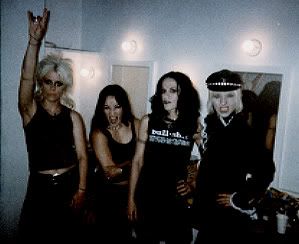 website
wikipedia
First one of their two songs that got radio play
Story Time: Lollapalooza 1994 Smashing Pumpkins and Beastie Boys headlining. As wikipedia says, the high water mark for the gag. The best blend of cool and popular. L7 was also on the bill so I went to the stop in RI. There was a major accident on I-95 and the band's bus was LATE for the show, as in the next band went on, and the band afterward was about to go on, but they let L7 play one song.....
Nice segue there, I know. Not one of my favorite songs of theirs but wanted to get the two radio tunes out there to remind people. So Crankin' & Skankin' a one shot show at Great Woods, May 21, 1997. I do not know how or why but at the time I had a smoking hot girlfriend. She nearly ruined the show for me. So when L7 got up things got rough, and people in the back of great woods tore up the lawn and started throwing turf. Dickie Barret came out part way through their set and threatened to call off the rest of the show. Instead, L7 had their set cut short.
How many bands has Dave drummed for?!?! I did not know about this until I was hitting YouTube. I love this song as it was written about the
Lunachicks
original drummer Becky Wreck.
So I finally got to see them play a full set, at the Paradise in Boston, around '99. The Paradise is a small venue, and as a result I got squeezed onto sitting on the edge of the stage. I was so close to the band I was ducking Janis Tanaka's wildly swinging base for most of the show. The girls must have said something to the bouncers, because I got left alone for the full show. At the end one of them made a b-line for me and told me to get off his stage. I was an ass and made sure he gave me a bottle of water before I did. They must have said something for me to have sat on the edge of the stage like I did. If one of the band is reading this and remembers that show, I was the guy in the
Descendents
shirt.
So I got to see them again at the Middle East Downstairs, closest I ever got with the girl I was chasing at the time. I had shit luck with women, still don;t know how I am married, and neither do people how know me from back then. Anyway it was a fucked up night. I got to make out with her, but I'm glad nothing more happened.
Yes, weird shit always happens when I see L7. I don't care, Bricks are Heavy is one of my favorite albums. They are also the closest thing to metal I'll ever like.
Natural Born Killers is one of my all-time favorite movies and was the reason I got into L7. That soundtrack was also one of my favorite movie soundtracks.
It is from this band, at which show I forget, that I learned, and stole, the "This song is too Metal for one hand!" two handed devil horns / metal sign, that I am infamous for. These girls have kicked more ass than most bands getting played on the radio today combined. They have also made better music and had more fun.
It's retro '90's already so get the fuck back together!!